I am definitely a watch person.  I have always used watches as part of my style.  I am one of those people who definitely notice when I forget to put my watch on — I constantly look at my empty wrist.  I am totally an Apple groupie, so the Apple watch was a must for me.  But the band choices were a let down for me.  Recently, more stylish versions have come onto the market.  I have a 38mm watch due to my skinny wrists.  So my reviews are based on use of that size band.
So the OG rubber watch band is a good basic choice.  There are many colors to pick from in the classic and sport versions.  For me, the adaptability of a small and large strap so it fits my small wrist well. I have a few colors in this band and wear them most days.  My only gripe is that they are not super stylish, so when I dress up it still looks very casual.
Kate Spade Strap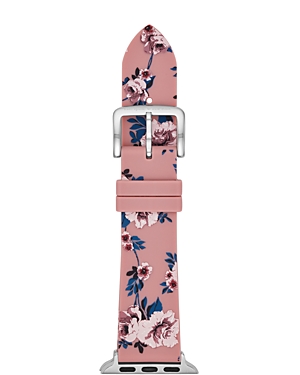 Kate Spade Floral Strap
So my love for all things KSNY is no secret.  I love the fun colors and patterns from this iconic women's brand. So when they started selling bands for Apple Watch, I was so happy! With all the great patterns, I ended up with black with white polka dots.  it is also a silicon band, but with a traditional buckle closure. Since I didn't have a black band, it was a happy addition to my collection.
 Casetify Stainless Mesh  Strap  
   Casetify floral Strap
I got a mesh metal band in rose gold from Casetify.  This band helped me to dress up my Apple watch.  There are also great patterns and leather bands from this brand.  They are available from their own site as well as at other retailers.
Custom Bands  
  Etsy Gucci Canvas watch band
So I love watching fashion videos and seeing all of the great IG fashion posts.  I came across custom bands made from old Louis Vuitton and Gucci canvas.  Being a lover of beautiful things made from recycled materials, I thought this would be a great idea.  After a bit of Facebook and Etsy research, I found a few makers that had the bands.  I ended up with a band made from old Gucci canvas with a traditional buckle. The medium length is a bit big for my skinny wrist, but I am able to wear it on the tightest hole available.  They even sent it in a cute pouch. Loving it so far as a part of my Luxe collection.
I love my Apple watch and I rarely wear any of my other watches.  I am glad that more choices are showing up for those who want to step above the plain silicon classic bands.  Hope this info was helpful! I will add links to bands that I have tried and to places where you can find additions to your collection.
Thanks for reading! XO, Dawn