Bloomingdales
A tradition that my husband and I enjoy are getting treats for our stocking.  It can be challenging because of the size. We try to get a mix of fun & silly and nice things.  There are some great sales out there at Nordstrom, Neiman Marcus and Bloomingdales and other great stores and websites out there. Here are some ideas to make digging into the stockings fun for everyone.
Treats for the Ladies:
Jo Malone London(TM) Miniature Candle Collection This is great to give to one person or break up the set to treat your office mates.
Charlotte Tilbury Luxury Palette  I love makeup and Charlotte Tilbury is one of my favorites.  Her eyeshadow palettes are beautiful.  The lipsticks are lovely as well! She has a lovely advent calendar as well!
Kate Spade New York Lanyard So she can wear her work badge in style!
Gucci Ophidia Suede Card Case For your favorite girl boss!
Fun Stuff for the Fellas:
Men's Hook + Albert Small Lapel Flower This flower will add a little something to the lapel of a jacket.  My husband has a few of them that adds a pop of color.
Men's Loewe Calfskin Leather Zip Wallet Men often don't change wallets in the same way that we do to fit in our purses and because it lives in their pocket, it can show wear.  This flat style is wallet is good to wear both in a front or back pocket and the zip comes in handy according to my husband.
Powerbeats³ Wireless Headphones These are just great headphones.
Men's Saint Laurent Studded Card Holder Because everyone with a business card needs a stylish card holder.
Gifts for Everyone:
Bombas Socks (get 20% off your 1st order) These socks are incredible and they donate one to someone in need for every pair you buy.  There are a variety of styles for women, men & children.
Budley (Amazon) These are great for anyone who hates when their ear buds get into a tangled mess! There is also a multi-pack on Amazon for a great price!
Desktop Mug Warmer (Amazon) This is dual purpose gift! It not only is great to keep your coffee warm at your desk. But it can also be used to warm a candle in your office (um, you cannot have open flame at work!). It would be a great combination gift with a  Jo Malone Orange Blossom candle!
Thanks for reading! XO, Dawn
Please like and share this post with your stylish friends. Follow the blog to get post updates.
Connect with me

:
I am definitely a watch person.  I have always used watches as part of my style.  I am one of those people who definitely notice when I forget to put my watch on — I constantly look at my empty wrist.  I am totally an Apple groupie, so the Apple watch was a must for me.  But the band choices were a let down for me.  Recently, more stylish versions have come onto the market.  I have a 38mm watch due to my skinny wrists.  So my reviews are based on use of that size band.
So the OG rubber watch band is a good basic choice.  There are many colors to pick from in the classic and sport versions.  For me, the adaptability of a small and large strap so it fits my small wrist well. I have a few colors in this band and wear them most days.  My only gripe is that they are not super stylish, so when I dress up it still looks very casual.
Kate Spade Strap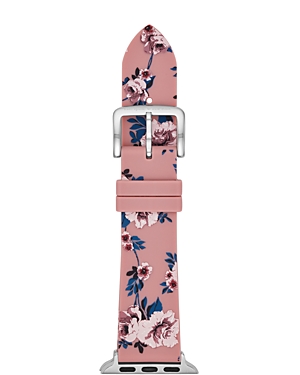 Kate Spade Floral Strap
So my love for all things KSNY is no secret.  I love the fun colors and patterns from this iconic women's brand. So when they started selling bands for Apple Watch, I was so happy! With all the great patterns, I ended up with black with white polka dots.  it is also a silicon band, but with a traditional buckle closure. Since I didn't have a black band, it was a happy addition to my collection.
 Casetify Stainless Mesh  Strap  
   Casetify floral Strap
I got a mesh metal band in rose gold from Casetify.  This band helped me to dress up my Apple watch.  There are also great patterns and leather bands from this brand.  They are available from their own site as well as at other retailers.
Custom Bands  
  Etsy Gucci Canvas watch band
So I love watching fashion videos and seeing all of the great IG fashion posts.  I came across custom bands made from old Louis Vuitton and Gucci canvas.  Being a lover of beautiful things made from recycled materials, I thought this would be a great idea.  After a bit of Facebook and Etsy research, I found a few makers that had the bands.  I ended up with a band made from old Gucci canvas with a traditional buckle. The medium length is a bit big for my skinny wrist, but I am able to wear it on the tightest hole available.  They even sent it in a cute pouch. Loving it so far as a part of my Luxe collection.
I love my Apple watch and I rarely wear any of my other watches.  I am glad that more choices are showing up for those who want to step above the plain silicon classic bands.  Hope this info was helpful! I will add links to bands that I have tried and to places where you can find additions to your collection.
Thanks for reading! XO, Dawn